The three finalists for the INCUBA Award 2023 as "Investor of the Year"
Every year, INCUBA honors the most dedicated investors who support and guide startups on their path to success. This year, three talented finalists have been selected for the Investor of the Year award in the Central Denmark Region. Here's a closer look at the three finalists:
Founderment represented by Investment Director Christian Vinther:
Christian Vinther has an impressive background in the startup ecosystem spanning more than a decade. He has not only worked actively in various startups, but has also shared his experience with hundreds of early-stage startups.
Christian previously worked at Danish Business Angels, where he advised both startups and business angels on early-stage capital attraction.
His efforts also extended to Silicon Valley, where he spent four years helping Danish startups navigate this dynamic ecosystem and build the necessary networks.
Today, Christian is a crucial part of Founderment, an active fund that invests primarily in Aarhus-based startups.
Founderment has established itself as a local early-stage VC that especially supports founders of technology-driven startups. Founderment is also backed by Anders Holch Povlsen through the fund Heartland.
Claus Hansen
Claus Hansen is a remarkable investor who specializes in backing knowledge-intensive startups in the healthcare sector. With his background in this industry, he brings invaluable expertise and experience to the table.
Claus is known for actively engaging in the entrepreneurial community and generously sharing his knowledge. He has found his niche and makes a significant difference in the early stages of the startups he supports.
His dedication and focus on his specific field makes him an inspiring investor who helps startups grow and thrive.
Claus is also known for his active participation in the Aarhus startup scene, where his advice and perspectives are valued and where he inspires others with his knowledge and experience. When Claus speaks and advises, he is listened to and taken seriously, further emphasizing his importance as a prominent investor in the entrepreneurial community.
Pernille Lynggaard Frandsen
Pernille Lynggaard Frandsen is a remarkable investor and board member who has been recognized as one of "10 Women Investors Who Inspire" in 2023.
Her commitment to entrepreneurship was strengthened by her family's entrepreneurial background, where she saw a business grow from the basement to a triple-digit million turnover.
After a long career in the family business, Pernille decided to change course and become an active investor.
She brings capital, network, expertise and advice to entrepreneurs at different stages of their entrepreneurial journey, investing in companies like Roccai and Thea Tools.
Pernille focuses on the energy of the team and believes that the good chemistry between founders and the investor is crucial for long-term results.


These three finalists in the Investor of the Year category at the INCUBA Awards 2023 represent the dedication and passion that is essential to support and shape the future of startups. Their efforts as mentors and investors help create a thriving entrepreneurial culture in Denmark, and they are all worthy candidates for this prestigious award.
Jan Snogdal, jury member for the INCUBA Investor of the Year Award 2023, said the following about the three finalists and their impressive qualifications:

"It is a pleasure to confirm that our three finalists meet the criteria required to be considered remarkable investors in the entrepreneurial community in the region. These investors have proven to be active and dedicated supporters of startups, and they serve as sources of inspiration for other investors and entrepreneurs. Their skill as mentors and supporters has been crucial to the development and growth of the companies they have invested in. We are proud to have investors like these in the ecosystem and they are all strong candidates for Investor of the Year at the INCUBA Awards 2023."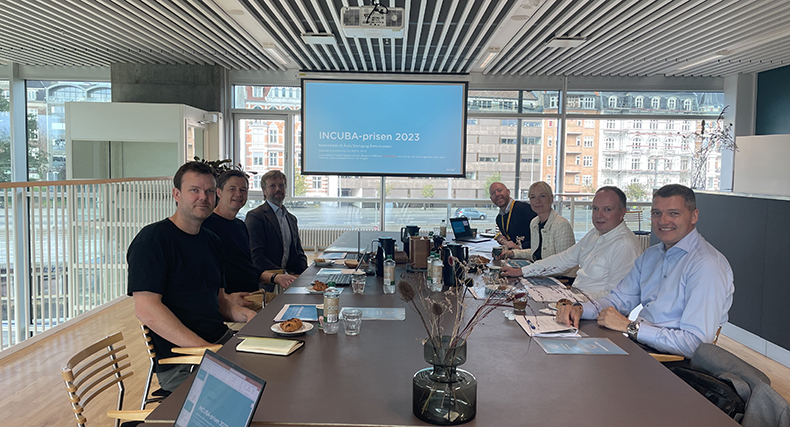 It is worth noting that important key figures from the Aarhus ecosystem have adopted and are part of the jury for the INCUBA Award 2023. The jury consists of a broad group of experts and leaders in the business and investment world:
Jakob Vangsøe Hansen, Business Director, Danske Bank: As a key player in the Danish financial sector, Jakob Vangsøe Hansen's expertise in finance and business development brings a deep understanding of what it takes to foster the growth of promising startups.
Benjamin Hoffmann, Partner, Potter Clarkson: A partner at a leading law firm, Benjamin Hoffmann brings his knowledge of legal aspects of entrepreneurship and intellectual property rights, which is crucial for startups in their journey to success.
Lars Louring, Investor Relations Manager, Danish Business Angels: Lars Louring brings an important investment perspective to the jury as he represents Danish Business Angels.
Søren Boel Pedersen, Manager, Business Aarhus: Søren Boel Pedersen represents Aarhus Municipality's business department and brings with him an in-depth understanding of the city's economic development and the area's business community.
Søren Grønbæk Nielsen, Business Development Manager, EIFO: Søren Grønbæk Nielsen is Business Development Manager at EIFO, which is central to strengthening the growth of Danish startups through funding and advisory services.
Jan Snogdal, Partner, DLA Piper: Jan Snogdal is a partner at DLA Piper, an international law firm, and has through his legal work advised many different startups and scaleups.
Mai Louise Agerskov, CEO, INCUBA: As CEO of INCUBA, Mai Louise Agerskov has extensive insight into the incubation environment and an understanding of what it takes to help startups succeed.
With these key people on the jury, the INCUBA Award 2023 is evaluated and selected by a panel of experts with different skills and perspectives, who together ensure that the most remarkable investor gets the recognition he/she deserves.