Innovative collaboration flourishes in INCUBA: Obtain Group and infiniance join forces
Two INCUBA technology innovation companies, Obtain Group and infiniance, have entered into a new collaboration focused on making the validation process of bank details electronic.
infiniance, an expert in financial advisory services with a number of clients among Denmark's largest companies, approached Obtain Group with an ambitious idea. infiniance wanted to make the validation process of bank details of suppliers electronic. A task that is usually a time-consuming and complex manual task for their customers, who on average handle thousands of monthly validations. infiniance wanted to create a more efficient solution and found in Obtain Group the right technological expertise to realize their vision.
"We had the idea for a solution, but lacked the necessary technical foundation to start the task. As a financial consultancy, we don't have dedicated developers. When searching for a new partner in a new area, you can end up with a mixed bag, so it was natural to ask in the INCUBA environment, where there are many tech-specialized companies: Can anyone do this?" says partner in infiniance, Henrik Amby, and adds:
"INCUBA matched us with Obtain Group to help us get the project off the ground and with an internal developer in the form of Henrik Pedersen, the project actually went from 0-100 in a situation where time was short and resources were limited."
Obtain Group, a recognized Microsoft consultancy specializing in Dynamics 365, has a skilled staff of consultants and developers who work to develop innovative solutions and work closely with customers to deliver tailored technological solutions. Obtain also carries out IT, finance and engineering recruitment.
"We are relatively new to INCUBA and one of the reasons we chose to move here was to create collaborations across the companies here. I am therefore pleased that Henrik first went internally with his query before resorting to Google, for example. The geographical proximity gives us a unique advantage - we are close to each other and can easily sit down together, discuss ideas and establish a good and strong project. Collaborating at a distance can be a challenge, so the close environment here at INCUBA has helped us drive this process forward," says Søren Seltoft, CEO of Obtain Sourcing.
What's remarkable about this collaboration is the symbiosis it creates between Obtain Group's expertise in Dynamics 365 and infiniance's need for technological development for a large, global customer market. By leveraging Obtain Group's talented consultants and developers, infiniance secures access to specialized knowledge quickly and efficiently. The collaboration emphasizes the strength of INCUBA as a platform for companies looking to leverage synergies and create breakthrough solutions through collaboration.
Both Obtain Group and infiniance look forward to exploring further collaboration opportunities and creating new innovative solutions that not only benefit their own businesses, but also contribute to the growing tech ecosystem in Aarhus and for customers on a global scale.
Learn more about infiniance here and visit Obtain here.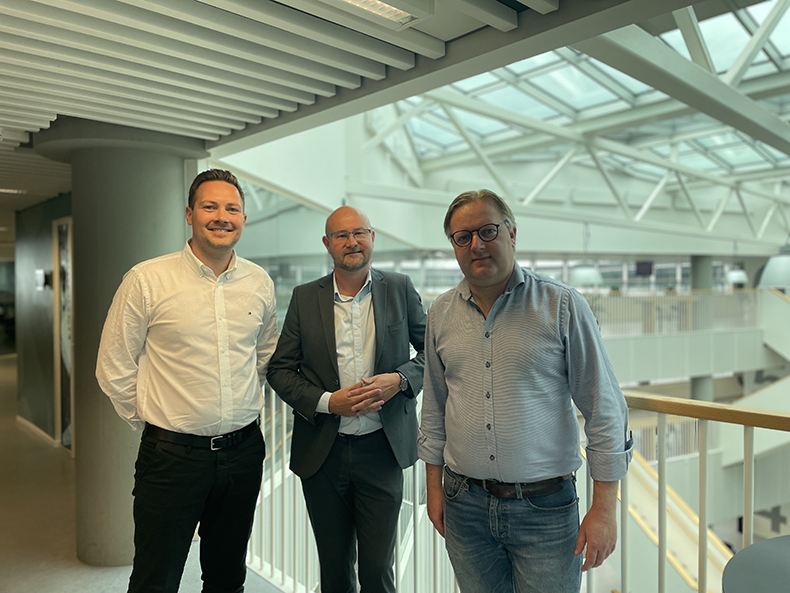 Pictured from left to right: Henrik Amby, Partner at infiniance, Søren Seltoft, Director at Obtain Sourcing, Henrik Pedersen, Senior Developer at Obtain Group