From Aarhus to Boston: INCUBA award winners visit world-leading startup ecosystem
In late summer 2023, the winners of the INCUBA Startup of the Year and Investor of the Year awards, Thomas Holm Pedersen, CEO of NMD Pharma and business angel Bo Wase, traveled on their prize trip to Boston with INCUBA. The destination of the trip was Boston and the world-leading ecosystem for tech-based startups around the Massachusetts Institute of Technology (MIT), a world-renowned institution in science and technology. Here they participated in an exciting program that included visits to the MIT Venture Mentoring Service, MIT Startup Exchange, Cambridge Innovation Center and the VC fund The Engine. Read more about what they learned, new insights and thoughts on how Aarhus can strengthen its innovation and entrepreneurial environment with inspiration from Boston and MIT.
Inspiration from Boston: The way to strengthen innovation in Aarhus
What is striking about the startup community in Boston is that it is broad and based on a strong ecosystem of offerings, physical environments, advice, events, competitions and capital deliberately built since the 80s. As Bill Aulet, Managing Director of The Martin Trust Center at MIT, said during the visit, a strong ecosystem is first and foremost about culture. Culture is made up of the stories that are told, which is why we in Aarhus need to get even better at highlighting the many strong startups and scaleups that are leading the way for the next generation. Specifically, we need to get better at helping new companies get started and increase transparency around offers including soft funding, networking opportunities and advice. Facilitating access to initial capital without diluting ownership is also an important part of creating a favorable environment for entrepreneurs. In this regard, Boston has a large number of business angels who have been through the journey of creating startups and selling them, and who actively invest broadly in even very early stage cases.
Incentives to integrate venture and startup courses into the education system were also highlighted, which will help prepare future generations for entrepreneurship.
Thomas Holm Pedersen - Startup of the Year 2022: Pursue your idea wholeheartedly and be willing to go the extra mile
Thomas Holm Pedersen emphasized the importance of having a high degree of risk-taking in entrepreneurship. This means being willing to take chances and fully commit to the business idea. He emphasized that half-hearted attempts rarely lead to great success, and full commitment is necessary to realize a vision.

In addition, it's about finding inspiration on how to build a network of support and mentors within and around MIT to support new entrepreneurs. At the same time, the culture at MIT is characterized by a strong dedication to entrepreneurship, where they actively celebrate both their own and each other's successes. This naturally leads us to explore what we can do in Aarhus to create a similar support structure.
He also raised the question of identifying a 'staging area' for innovation in Aarhus and called for a discussion on who could be key players in promoting entrepreneurship and innovation, including possible partners such as Aarhus University (AU), INCUBA and Aarhus University Research Foundation (AUFF).
Bo Wase - Investor of the Year 2022: Collaboration between universities and companies is an important factor
Bo Wase provided insights from an investor perspective on the innovation ecosystem. He noted that MIT is known for its ability to collaborate with companies and has dedicated organizations and teams to facilitate these collaborations, such as the Energy Initiative and the Industrial Liaison Program (ILP). This collaboration between universities and businesses is an important factor in Boston's success as an innovation hub.

Bo also noted that companies in Boston are working with MIT to define the agenda for solving some of the world's biggest problems. This collaborative model is essential to creating sustainable solutions to global challenges.

Furthermore, Bo Wase highlighted the importance of structured mentoring and group mentoring as an inspiring approach. This helps founders receive targeted advice and support from experienced professionals in a set-up similar to an advisory board or board of directors, which can be crucial to their success.

He also suggested the use of role models to motivate and inspire new entrepreneurs and students. This would help create a dynamic and energetic ecosystem for innovation and entrepreneurship in Aarhus.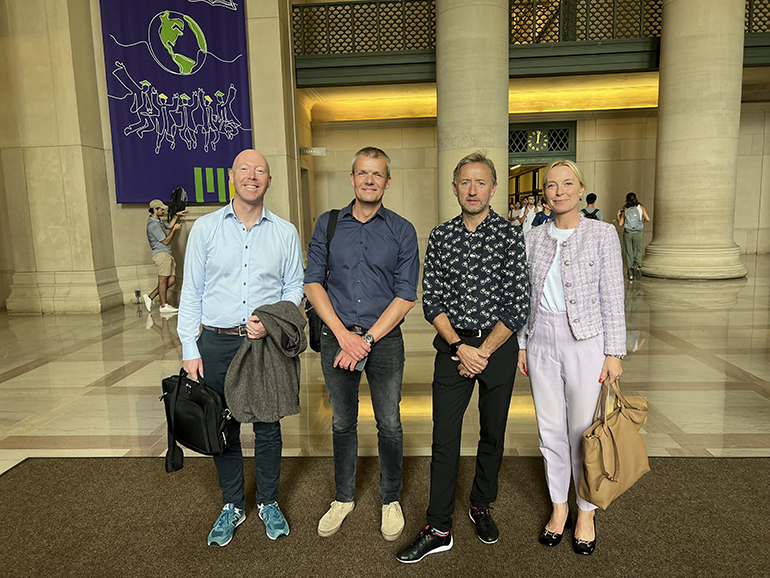 From left to right: Jeppe Wang Hjørngaard, Director of Acceleration & Investor Relations in INCUBA, Thomas Holm Pedersen, CEO in NMD Pharma, Bo Wase, Business Angel, Mai Louise Agerskov, CEO in INCUBA.
Mai Louise Agerskov: INCUBA's vision for Aarhus
Finally, Mai Louise Agerskov, CEO of INCUBA, highlighted the need to make Aarhus an even more attractive place for innovation and entrepreneurship.
How do we make Aarhus attractive enough for entrepreneurs and investors? One factor may be to strengthen support systems, including experienced mentors who can guide and support founders through their journey, as well as specialists who can help acid test the underlying assumptions on which a startup bases its business idea at an early stage.
Mai Louise Agerskov also focused on engaging established companies in the innovation ecosystem as first potential customers, a way to demonstrate proof of concept, for procurement collaboration, prototyping or otherwise. This involves establishing close connections and partnerships between universities, research institutions and companies so that a symbiotic exchange of knowledge and resources can be achieved.
She also pointed out the need for easier access to venture funds that both invest early and have the investment framework to match the capital requirements of technology-heavy cases. Access to investors in Boston means that more ambitious thinking is needed from the start in terms of rapid scaling, as within a very small radius there is a very large concentration of business angels and funds that also compete for the good cases.
In summary, Mai Louise Agerskov envisions an environment in Aarhus where entrepreneurs and investors thrive, where there is access to qualified support, advice, the right physical facilities and investors, and where there is a clear path from idea development to market implementation. Her vision is centered around a culture of collaboration, cultivating success stories and helping to support and attract talent and investors to ensure Aarhus remains a destination for growth and innovation.
MIT VMS: MIT Venture Mentoring Service. Learn more about how MIT works with mentors towards their entrepreneurs and share how we work in Aarhus/AU/INCUBA. Host: Jerome Smith + colleagues at MIT VMS
Visit MIT Startup Exchange w/ Catarina Madeira, Director of MIT startup Exchange. Tour, meet the Startup Exchange team, learn about startups in the program + alumni startups. Host: Catarina Madeira, Director of MIT startup Exchange
Visit The Engine. MIT's VC fund. Presentation about The Engine and how they operate. Learn about investment strategy and focus areas. How do they work with MIT research --> commercialization. We share how we work in Denmark /Aarhus/AU. Host: Michael Kearney, Partner at The Engine + colleagues (Emily Knight, Chloe Holzinger)
Visit MIT Energy Initiative. The MIT Energy Initiative is MIT's hub for energy research, education, and outreach. Our mission is to develop low and no carbon solutions that will efficiently meet global energy needs while minimizing environmental impacts and mitigating climate change. Host: Joseph John Laukaitis , Program Director @ MIT Energy Initiative
Delta V MIT Accelerator Demo Day @ MIT Kresge Auditorium: Startup pitches & network dinner. Read more about the MIT Delta V summer accelerator program here: https://entrepreneurship.mit.edu/accelerator/program/
Aarhus Investor Summit: Decision approaching for the INCUBA Award 2023
It's clear that the inspiration trip to MIT in Boston has created a valuable dialog for innovation and startups in Aarhus. Meanwhile, the excitement has intensified for the INCUBA Award 2023, which will be decided during the Aarhus Investor Summit on October 5 at Aarhus City Hall. In the final to win the "Startup of the Year" award are: Battman Energy, Quantify, PlanetDairy and SulfiLogger, while investors Christian Vinther at Founderment, Claus Hansen and Pernille Lynggaard Frandsen are vying for the title of "Investor of the Year".
Read more about the finalists for Startup of the Year here and Investor of the Year here.