Welcome to Partisia as the first company in INCUBA Next
Katrinebjerg gets a new landmark when INCUBA expands over the coming years with 20,000 ultra-modern square meters for growth-oriented technology companies in the middle of the city's IT and innovation environment. The new building will be called INCUBA Next and will target scaleups and development teams from larger technology companies. INCUBA Next will be connected to the existing INCUBA Katrinebjerg, which currently houses around 70 IT companies and startups in 12,000 sqm. The business environment is located in the IT City Katrinebjerg area, which is also home to Aarhus University's IT education and research.
In the summer of 2022, about two years before the extension is completed, the first company has just signed for a domicile in INCUBA Next. And what a first company! We are incredibly excited to welcome Partisia. Or rather, and more precisely: we are looking forward to welcoming the company "back", as Partisia is already and since 2018 located in INCUBA Katrinebjerg.
Partisia is an IT company that is both a pioneer and a world leader in the commercial use of Secure Multi-Party Computation (MPC). Founded by some of the world's leading cryptographers, the IT company has delivered state-of-the-art security solutions based on MPC across industrial and financial solutions since 2008.
But Partisia is growing. The IT company is growing and therefore facing an expansion, and at the same time Partisia wants to stay in the environment at INCUBA Katrinebjerg. That's why they're moving into the INCUBA Next extension, where the company will live nice and high on the 12th floor when the building is ready in late summer 2024. Today, Partisia has 35 employees, who are currently busy working with Statistics Denmark to virtually connect Danish registers for better and more efficient analysis work:
"This kind of confidentiality opens up some completely new possibilities, and it also allows us to expand the business. For the same reason, we have signed an agreement to rent the 12th floor of INCUBA Next," says CEO of Partisia, Kurt Nielsen.
Partisia secures the future in INCUBA Next
For more than 30 years, INCUBA has been the meeting place for ambitious and knowledge-intensive entrepreneurs, and the addition of INCUBA Next is a natural next step in supporting the growth layer.
For CTO Peter Frandsen, the environment at INCUBA and the proximity to Aarhus University are crucial for Partisia. It is therefore a wish that comes true when the company expands its square meters in INCUBA Next and thus stays at Katrinebjerg: "It is important for us in the future to have one office community where we can meet and exchange ideas. We will do this in a place that is very close to Aarhus University's IT environment at Katrinebjerg, where we work closely with many researchers," he says.
In INCUBA Next, the largest companies can remain part of the environment, while INCUBA creates an ideal framework for growth companies that benefit from being close to other entrepreneurial companies and the entire research environment:
"We are very happy to get the signature from Partisia. It is a testimony that there is a need for an even bigger environment to embrace the tech startups that we see growing bigger and turning into scaleups that need an even bigger framework," says CEO of INCUBA, Mai Louise Agerskov and elaborates:
"The signature from Partisia also testifies to the general need among scaleups to stay in the environment with other like-minded companies and close to the university. INCUBA has an important task in embracing this need, both with a physical framework, but also to a large extent with community, networking and matchmaking within the environment," she concludes.
INCUBA Next comprises 22,000 sq ft. spread over 18 floors, 4,000 sq. underground parking and a 4,500 sqm side building. The extension will also have 1,400 sqm of roof terraces, a restaurant, a café, large common areas and, finally, with its height of 76 metres, one of the best views of the whole bay in the city.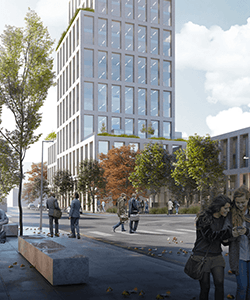 Facts about INCUBA Next
18 storeys and 22,000 sq.m., including 4,000 sq.m. underground parking and a side building of 4,500 sq.m. In addition, external roof terraces totalling 1,400 sqm.
INCUBA Next will be connected as an extension to the existing INCUBA on Katrinebjerg, which currently has around 60 companies on 12,000 sq.m., including Norlys and Concordium.
INCUBA Next is designed as a sustainable building with DGNB Gold certification
Start of construction: April 2022
Completion: mid 2024
Building design: AART Architects and ADEPT
Client advisor: Rambøll Danmark A/S with AART Architects as architectural consultant
General contractor: A. Enggaard A/S with COWI and ADEPT as consultants