Merry Christmas, Kvantify - and welcome to INCUBA Next!
Employees at Kvantify were treated to both a surprise and a glass of champagne to kick off their annual Christmas party. Co-founder and CEO Hans Henrik Knudsen announced that in two years they will be celebrating the same Christmas party in the company's new home on the 11th floor of INCUBA Next.
Kvantify has been part of the development environment at INCUBA Katrinebjerg since March 2022, when the startup company entered with eight people in their Aarhus office. Today, eight months later, Kvantify already has 27 employees at INCUBA Katrinebjerg. This is just a small indication of the amazing growth journey the company is on. Most recently, Kvantify has received a total of tens of millions of DKK from several Danish investors. One of them is the venture fund 2XN Ventures, which focuses on investments in quantum technology, which is Kvantify's core competence. Co-founder and CEO Hans Henrik Knudsen and the rest of the team look forward to continuing the journey of INCUBA Next:
"Today, we are more than 30 employees developing programs for the new computers that, using advanced quantum mechanics, will solve problems and tasks that we are currently nowhere near being able to tackle," explains Hans Henrik Knudsen, one of the three founders of Kvantify, adding:
"We are very proud to have assembled one of the strongest Quantum Computing teams in Europe, and with both new capital and a new home in INCUBA Next, we can continue our positive development. In INCUBA Next we continue to be part of a strong tech environment at Katrinebjerg while being close to the brightest minds at the Department of Computer Science. We are excited about what the future holds for us and the quantum ecosystem in Denmark."
In INCUBA Next, the largest of the companies at INCUBA Katrinebjerg have the opportunity to remain part of the environment. Here, INCUBA's mission is to create an ideal environment for growth companies that benefit from being close to other entrepreneurial companies as well as the entire research community:
"We are very happy to get the signature from Kvantify, a knowledge-intensive company with origins from Aarhus University, which is at the forefront of their field - and thus in the core target group for INCUBA," says Claus Svane, Director of Real Estate, Lettings & Facilities.
Adm. dir. of INCUBA Mai Louise Agerskov adds:
"The signature from Kvantify confirms once again that there is a need for scaleups to stay in the environment together with other startups, scaleups, development teams from larger companies and close to the university. This way, companies can more easily attract the right talent and become visible to the most ambitious investors. We at INCUBA have an important role in embracing this need, both with physical space, but also very much with community, networking and matchmaking within the environment," she concludes.
INCUBA Next comprises 22,000 sqm. distributed over 18 floors, 4.000 sqm. parking garage and a side building of 4,500 sqm. The extension will also have 1,400 sqm of roof terraces, a restaurant, a café, large common areas and, finally, with its height of 76 metres, one of the best views of the whole bay in the city.
Learn more about Kvantify here.
Photo: Nikolaj Zinner, Co-founder & CQO, Allan Grønlund, Co-founder & Head of Algorithms, Hans Henrik Knudsen, Co-founder & CEO og Claus Svane, Director of Real Estate, Lettings & Facilities, INCUBA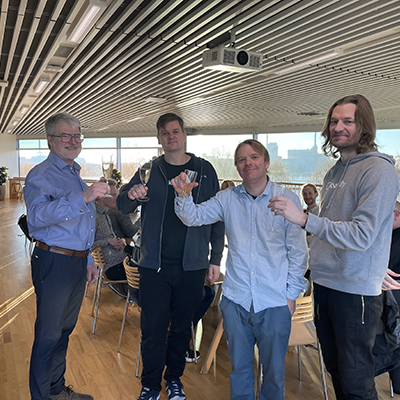 Facts about INCUBA Next
18 storeys and 22,000 sq.m., including 4,000 sq.m. underground parking and a side building of 4,500 sq.m. In addition, external roof terraces totalling 1,400 sqm.
INCUBA Next will be connected as an extension to the existing INCUBA on Katrinebjerg, which currently has around 60 companies on 12,000 sq.m., including Norlys and Concordium.
INCUBA Next is designed as a sustainable building with DGNB Gold certification
Start of construction: April 2022
Completion: mid 2024
Building design: AART Architects and ADEPT
Client advisor: Rambøll Danmark A/S with AART Architects as architectural consultant
General contractor: A. Enggaard A/S with COWI and ADEPT as consultants