The four finalists for the INCUBA Award 2023 "Startup of the Year"
Every year, INCUBA honors the most promising startups with the INCUBA Award. This year, four exciting startups have been selected as finalists for the award. Here's a closer look at the four finalists:
Battman Energy
Founded in 2022
Battman Energy is a startup that takes an active part in the green transition. They are working on adding more flexibility to the electricity grid using batteries to enable greater integration of renewable energy without price fluctuations.
The company has a young team with relevant experience in energy project development and technical management of assets in the electricity network.
Among other things, Battman Energy seeks to address the challenges that arose in 2022 when electricity prices fluctuated wildly due to a lack of flexibility in the grid.
In one year, Battman Energy has managed to build a project pipeline of 250 MW battery storage and 100 MW solar PV.
Kvantify
Founded in 2022
Kvantify is a Danish quantum startup that has taken the world by storm in a short time. They are pioneers in quantum technology and have developed groundbreaking technology.
Founded as a spinout from Aarhus University.
In just 1½ years, they have become the Nordic region's leading company in quantum technology and high-performance computing. They have also secured impressive funding, including a successful 20 million crown funding round led by EIFO.
The founders of Kvantify are prominent figures in the Aarhus entrepreneurial community, and their young team is constantly growing as they continue to attract talent in 2023.
PlanetDairy
Founded in 2022
PlanetDairy is a startup with an impressive journey from idea to market in just 1.5 years. Their strong team consists of seasoned leaders with global experience in the food industry.
The company focuses on high technology and collaborates with universities and international ingredient suppliers. They are globally oriented and have already initiated dialogs with customers in Sweden, Germany and China.
PlanetDairy has received significant investment and support from various sources and has established important collaborations and pilot projects.
Their focus on innovation and global opportunities in the dairy industry has made them an exciting finalist for the INCUBA Award 2023.
SulfiLogger
Founded in 2020
Sulfilogger is a spinout from Unisense A/S and works with microsensors for industrial applications. They began by developing sensors to measure sulfide in wastewater and have since expanded their product range.
The company has revolutionized sensor technology by industrializing and making it more cost-effective.
They have managed to secure the world's largest distributors in the wastewater industry as their customers.
Formerly an academic researcher, CEO Søren Porsgaard has proven himself as a skilled commercial leader and has an impressive growth plan.
Sulfilogger expects to double their turnover every year in the coming years and has already attracted significant capital.
Søren Grønbæk Nielsen from EIFO, a key member of the jury for the INCUBA Award 2023, expressed his excitement and appreciation for the four finalists:
"These four startups each meet the criteria for Startup of the Year in their own way. The teams behind these entrepreneurs not only exude drive and scalable ambition, but they also inspire other startups with their ingenuity and innovation. Their business potential extends globally and they have already achieved remarkable results in a short period of time. These startups and their founders are true role models for the Danish entrepreneurial scene, and they show that we here in the region can be proud to be a center of innovation and entrepreneurship."
These four startups represent exciting developments in the technology, industry and food sectors and showcase the potential of Danish entrepreneurship. The winner will be announced at the Aarhus Investor Summit on Thursday, October 5.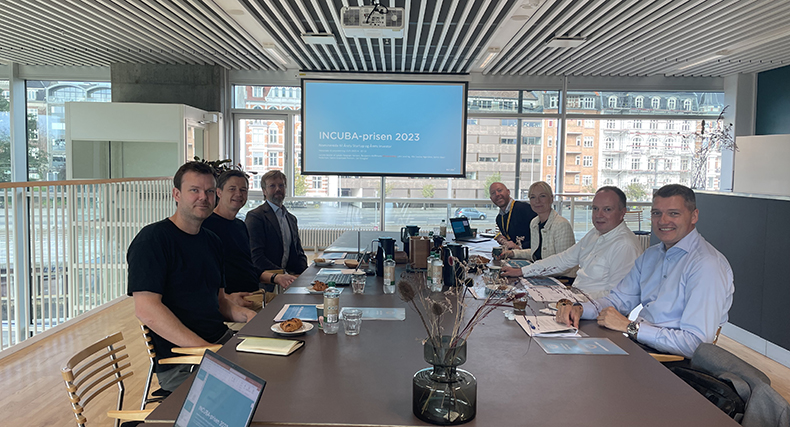 It is worth noting that important key figures from the Aarhus ecosystem have adopted and are part of the jury for the INCUBA Award 2023. The jury consists of a broad group of experts and leaders in the business and investment world:
Jakob Vangsøe Hansen, Business Director, Danske Bank: As a key player in the Danish financial sector, Jakob Vangsøe Hansen's expertise in finance and business development brings a deep understanding of what it takes to foster the growth of promising startups.
Benjamin Hoffmann, Partner, Potter Clarkson: A partner at a leading law firm, Benjamin Hoffmann brings his knowledge of legal aspects of entrepreneurship and intellectual property rights, which is crucial for startups in their journey to success.
Lars Louring, Investor Relations Manager, Danish Business Angels: Lars Louring brings an important investment perspective to the jury as he represents Danish Business Angels.
Søren Boel Pedersen, Manager, Business Aarhus: Søren Boel Pedersen represents Aarhus Municipality's business department and brings with him an in-depth understanding of the city's economic development and the area's business community.
Søren Grønbæk Nielsen, Business Development Manager, EIFO: Søren Grønbæk Nielsen is Business Development Manager at EIFO, which is central to strengthening the growth of Danish startups through funding and advisory services.
Jan Snogdal, Partner, DLA Piper: Jan Snogdal is a partner at DLA Piper, an international law firm, and has through his legal work advised many different startups and scaleups.
Mai Louise Agerskov, CEO, INCUBA: As CEO of INCUBA, Mai Louise Agerskov has extensive insight into the incubation environment and an understanding of what it takes to help startups succeed.
With these key people on the jury, the INCUBA Award 2023 is evaluated and selected by a panel of experts with different skills and perspectives, who together ensure that the most remarkable investor gets the recognition he/she deserves.